San Diego Puppy's Custom Dog Houses
To Place An Order Call 619-581-8377

High End Quality Craftsmanship
All dog houses are hand crafted and uniquely made with every attention to detail
All dog houses are raised off of the ground and sit on treated wood as the base
Each dog house is made with the best materials
Each dog house is weather proof
Timeline to complete Fido's custom made dog house usually 3-5 days
Custom Built Dog House Models
The Contemporary
One of our better selling dog houses. The Contemporary yells I'm trendy and fashionable. It's beautiful paneling from roof top to sides gives this model a contemporary modern look with wonderful curb appeal. Take it home today – Call 619-581-8377 to order.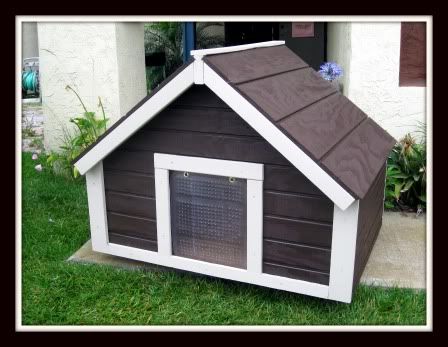 The Skylight
This beautifully crafted A-Frame design fits perfect with any backyard decor. It's clean lines and flat board roof give it a clean contemporary look that give's it the curb appeal. The window is not included but can be added as an addition (see below). Pick up it today or have it delivered to your front door in as little as 3-5 days.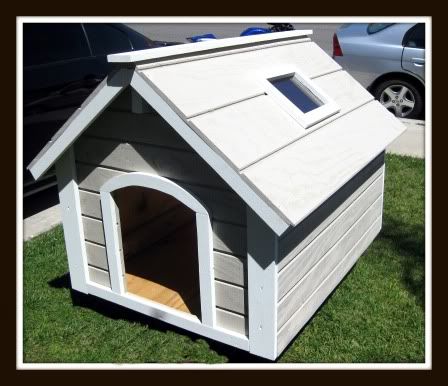 The Colonial
This cute tradition colonial style home is adorable. From it's A-Frame design with shingled roof to it's cute little patio and with its stylish support pillars – this traditional home has a lovely modern fling. You may customize the color of the shingles. Take the Colonial home and let your puppy live in luxury and style.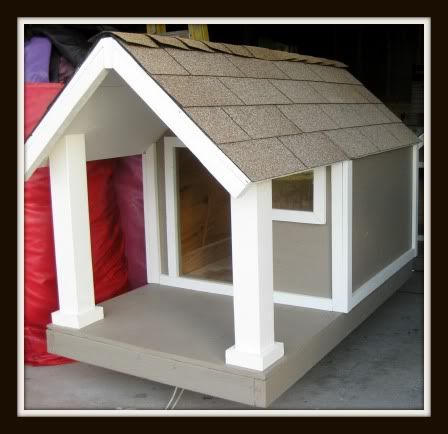 The Modern
Similar to the Skylight the Modern model has a more lower oblique roof  giving it a wider look. Its overall square footage also slightly more. The Modern is a great choice for those pups that need a little extra room to lounge around in. Choose any 3 paint color to paint any one of our dog houses.  Call and custom order yours today.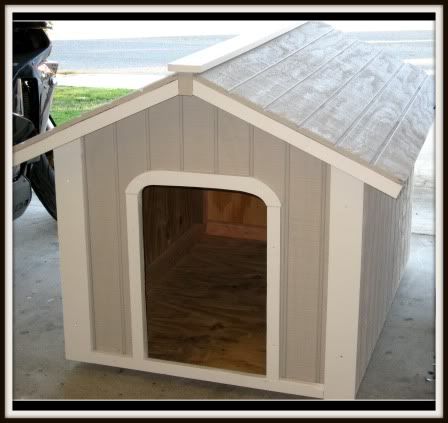 The Double Cozy
The Double Cozy is our easy access doggy house with two doors and a cute patio. This home is ideal to place between a cornering wall or just out in the open. Your puppy will love the double vantage point and feel less restricted. We can imprint your puppy's name on the any of our dog houses see details below. Take home the Double Cozy today.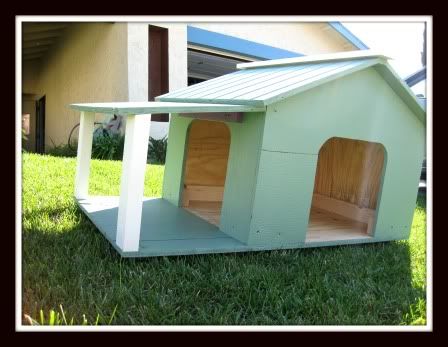 The Snugy
One the cutest cozy dog houses we offer. The Snugy is a taller squarish design that cute at every angle. You puppy will feel comfortable and secure in the Snugy. It's like there little den and they love it.  Each Snugy comes with a shingled room for extra protection and insulation for your favorite pooch. Call to order today!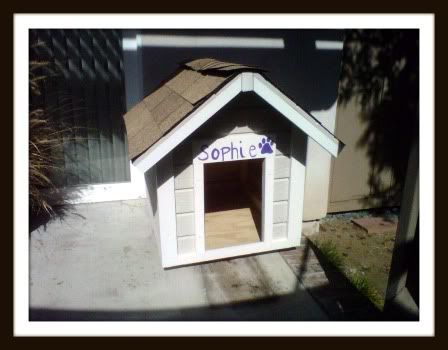 The Sun Deck
A wonderful dog house concept that dogs love. In the cool fall and winter months your puppy will love sun bathe on the high and dry roof top deck.  This model is a house that dogs enjoy climbing up and down or jumping on and off for hours of fun. Order the Sun Deck today!

Dimensions:
Small houses 2×2 base
Med House 2×3 base
Large Houses 3×4 base
X-Large  Houses Available Call For Details
Pricing:
The Colonial
$375.00 small, 415. med, 450 large
The Contemporary
$275.00 small, 315. med, 350 large
The Double Cozy
$230.00 small, 260. med, 300 large
The Modern
$260.00 small, 290. med, 325 large
The Skylight
$275.00 small, 315. med, 350 large
The Snuggy
$275.00 small, 315. med, 350 large
The Sun Deck
$275.00 small, 315. med, 375 large
Additions:
Windows or Skylights: $30 each
3 Paint Colors: FREE
Additional Colors: $10 each
Custom Lettering (Name of Dog & Paw Prints): $20
Delivery:
FREE  pick up
$30 dollars for delivery within a reasonable distance.
Alpine, San Marcos, Ramona and Oceanside areas are $50. Temecula $70.
To Place An Order Call 619-581-8377